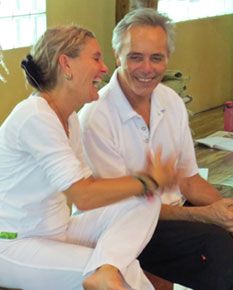 Sunday, July 08, 2018 to Friday, July 13, 2018
5 Day Self-Awakening Yoga® Retreat
Location: 1440 Multiversity, California
Directed By: Amba and Don Stapleton, Ph.D.
Don and Amba Stapleton are internationally recognized for their ability to approach yogic inquiry as a way to facilitate depth contact with your own source of internal guidance. You will come home to yourself in this immersion environment through a carefully balanced schedule of Self-Awakening Yoga® practices that combine introspection with celebration, strength with compassion, and tradition with evolution. Experiencing the rejuvenating effects of Self-Awakening Yoga® takes you to the roots of your yoga practice as a creative learning process and an expansion of consciousness.
The easy-to-follow Self-Awakening Yoga® movements are based on the neuro-muscular developmental stages that are encoded within the body's memory from birth. The sequence of movement inquiries you will experience in this retreat reveal fundamental insights into developmental patterns, structural alignment, mobility, balancing flexibility with strength, differentiating functional movements, and energizing core strength. Taking your yoga practice to this level of personal ownership frees you from the illusion that "truth" exists outside of you. This Self-Awakening Yoga® Retreat helps you gain a foundation for entering into any form of yoga practice without abandoning contact with your inner guidance or neglecting the wisdom flowing from your organism.
Suggested Reading: Self-Awakening Yoga: The Expansion of Consciousness through the Body's Own Wisdom, by Don Stapleton Ph.D., Healing Arts Press, 2004.