The Nosara Yoga Institute, founded by Don & Amba Stapleton, is taking on a new name: "Self-Awakening Yoga"!
All professional yoga teacher trainings are now being offered at 1440 Multiversity. For those of you who are new to our programs, we can't wait to meet you in the California Redwood Forest and for those who have already studied with us, we anticipate with joy the moment when we will get to see you again so that we may continue the extraordinary journey of yoga together.
Thank you all for your interest and support.
Namasté, Amba & Don "Brahmanand"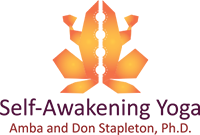 Previously known as Nosara Yoga Institute